Social Justice
The path of Social Justice at UUFHC is determined each year based on the need and interest of our membership. Funds for the committee's work are supplied via special monthly collections during our Sunday morning services, September through June. The Social Justice Committee strives to educate our community about social justice issues using many sources, including those provided by the UU College and Social Justice, monthly documentary nights, and hands-on volunteer opportunities.
---
Silent Witness Service Scheduled for September 30, 2018
For over a decade, UUFHC has been known as the church on Rt. 22 that houses the Silent Witnesses, raising the awareness of our entire community about the tragedies of domestic violence. We will once again be unveiling the figures on Sunday, September 30th and hope that many of you will be involved. Here is how you can help:
Bring a savory finger food for the reception that will follow the brief ceremony on Sunday, September 30th. Speakers from the community, as well as family members of the victims, are invited to attend. We expect approximately 30 people.
Attend the commemoration ceremony and the reception. It begins at 11:30 AM on Sunday, September 30th and generally ends by noon.
Help move the figures from the church to the road and secure them in the ground. Weather permitting, we will do this after the ceremony and brief reception on September 30th. With a good work crew we should be done by 1:30 PM. If weather is a problem, we will schedule this for later in the week.
We also need someone, or two, to take over this very important job for next year. Please let us know so you can follow us to see how it's done this year.
For planning purposes, please let Olivia Spencer know if you can bring food or if you can help in one of the other ways. She can be reached at spencer48@comcast.net or 443-327-7115.
Thank you for supporting this important social justice program.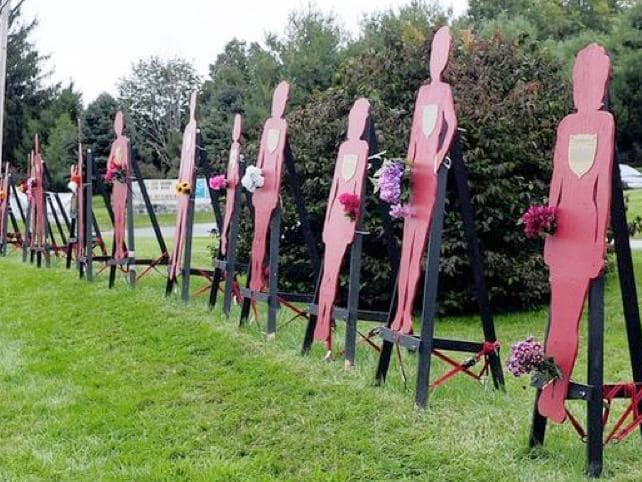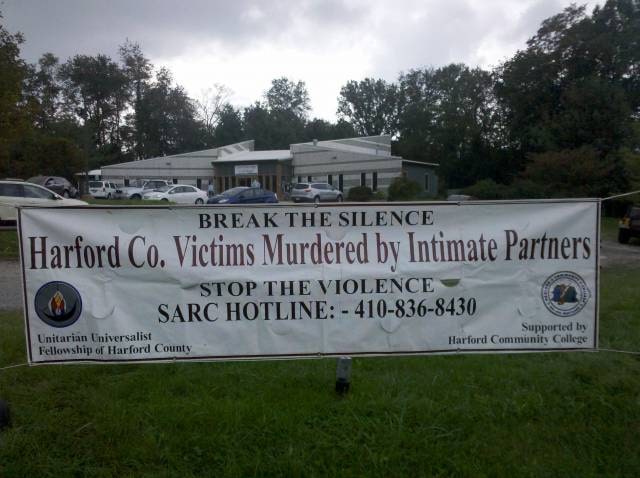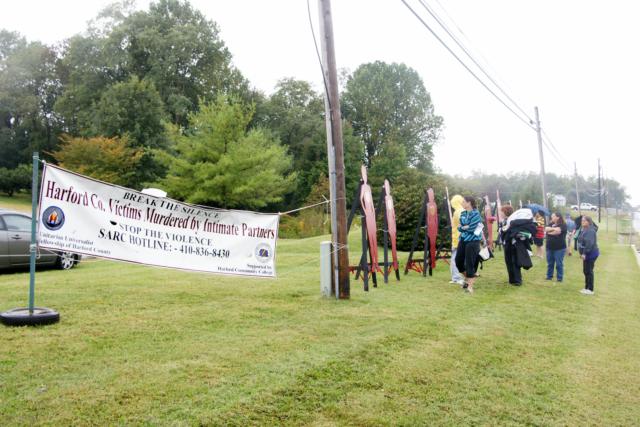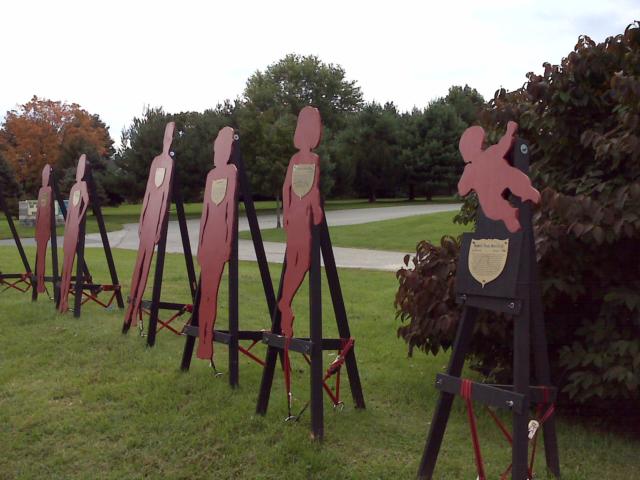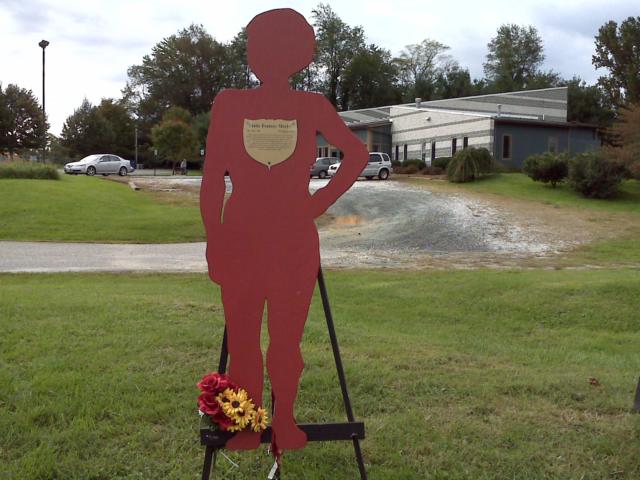 UUFHC has prominently displayed the Silent Witness figures for 17 years. A grant for the project was funded by Harford Community College at that time. Since then, the figures have been displayed outside the church during the month of October which is Domestic Violence Awareness month.
Originating in 1990, the Silent Witness National Initiative began with a group of 8 women from the St. Paul/Minneapolis area who decided to address the issue of domestic violence murders in their community. They created 27 life-sized red wooden figures representing women who were murdered by a spouse or partner and called the figures Silent Witnesses.
According to the American Psychological Association, women who are victims of domestic violence are 8 times more likely to be killed by an intimate partner if there are firearms in the home. FBI data indicates that 30% of female homicide victims are killed by husbands or boyfriends. This translates into the deaths of four women per day at the hands of male partners. Women often times remain in an abusive relationship because it can be dangerous and difficult for them to leave. If they threatened to leave or are separated from their abuser, this is the most dangerous time and when they are most apt to be killed. Why is this? According to the Strengthen Our Sisters website, Murder is the ultimate expression of the batter's need to control the woman's behavior. Knowing this, women need organizations like SARC to help them design a plan to leave safely. SARC's free services include a 24/7 helpline, a shelter, counseling and legal services. For more information visit www.sarc-maryland.org or call the 24/7 phone number 410-836-8430.
The UUFHC members coordinating this year's commemoration stated, The Silent Witness Initiative helps us understand the profound damage violence brings to our lives, and hopefully raises the awareness in our community about the tragedies that have occurred right here in Harford County. Our statues are a silent remembrance of those victims and we especially welcome family and friends of those victims.
The mission of the Silent Witness project is to promote peace, healing and responsibility in adult relationships in order to eliminate domestic murders in the United States by 2020. You can learn more about the Silent Witness National Initiative by visiting its website at www.silentwitness.net.
---
If you are interested in finding a community that offers fellowship, personal growth, and opportunities to give something back to society, please consider visiting UUFHC. Social Justice Committee announcements are posted on the wall over the food table in the coffee room. You can also find us on Facebook.
For more information on the Social Justice Committee or our projects, please contact Tammy Gappen (
socialjustice@uufhc.net
).
---