Social Justice
The path of Social Justice at UUFHC is determined each year based on the need and interest of our membership. Funds for the committee's work are supplied via special monthly collections during our Sunday morning services, September through June. The Social Justice Committee strives to educate our community about social justice issues using many sources, including those provided by the UU College and Social Justice, monthly documentary nights, and hands-on volunteer opportunities.
---
Silent Witness Service Held on Sunday, September 29, 2019
For over a decade, UUFHC has been known as the church on Rt. 22 that houses the Silent Witnesses, raising the awareness of our entire community about the tragedies of domestic violence. We once again held a ceremony and unveiled the figures on Sunday, September 29th.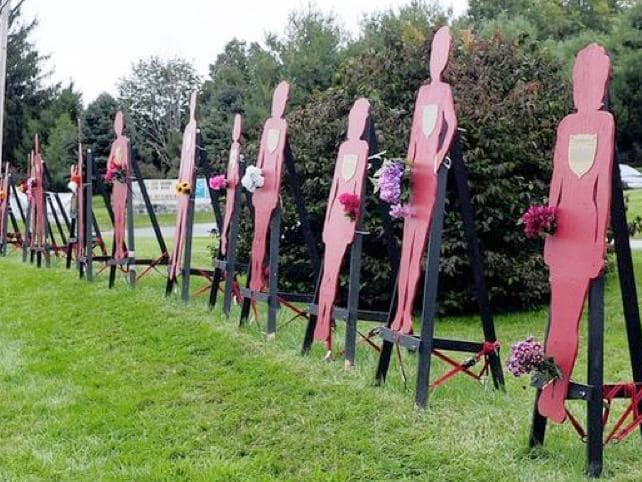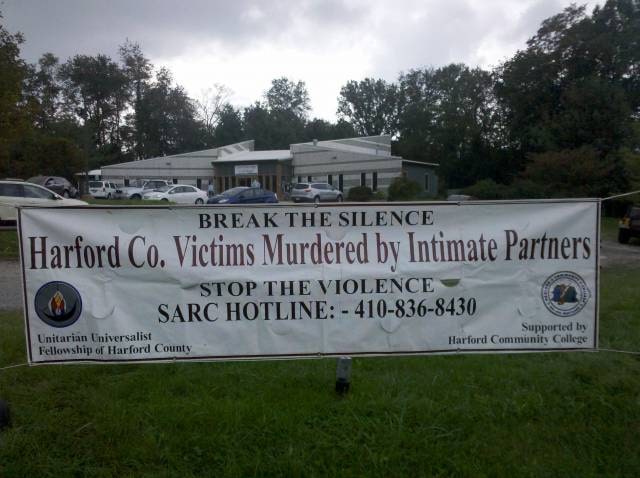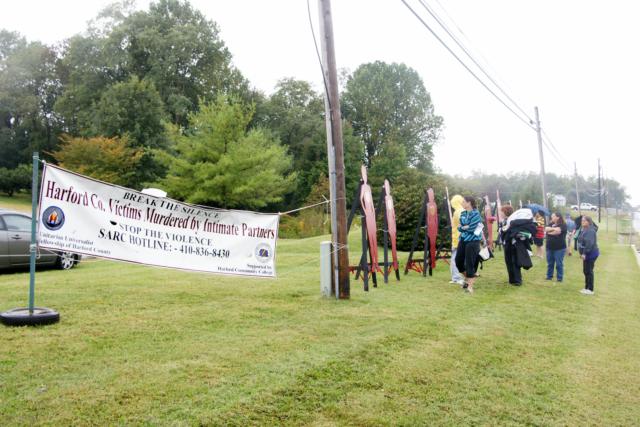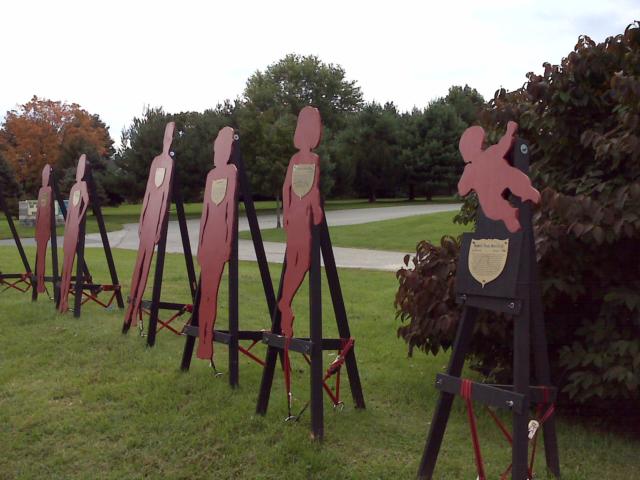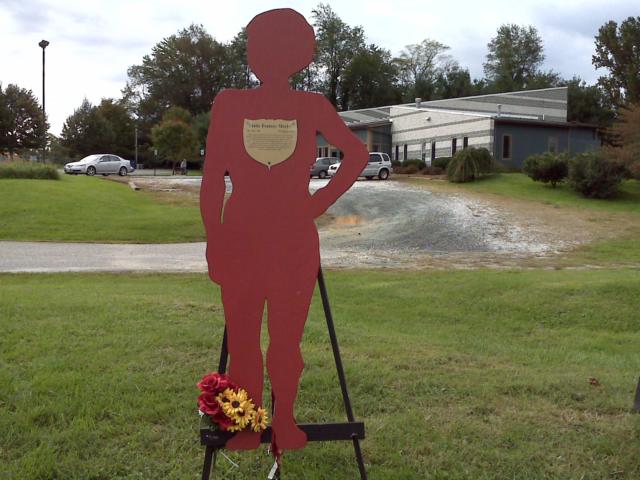 UUFHC has prominently displayed the Silent Witness figures for 18 years. A grant for the project was funded by Harford Community College at that time. Since then, the figures have been displayed outside the church during the month of October which is Domestic Violence Awareness month.
Originating in 1990, the Silent Witness National Initiative began with a group of 8 women from the St. Paul/Minneapolis area who decided to address the issue of domestic violence murders in their community. They created 27 life-sized red wooden figures representing women who were murdered by a spouse or partner and called the figures Silent Witnesses.
According to the American Psychological Association, women who are victims of domestic violence are 8 times more likely to be killed by an intimate partner if there are firearms in the home. FBI data indicates that 30% of female homicide victims are killed by husbands or boyfriends. This translates into the deaths of four women per day at the hands of male partners. Women often times remain in an abusive relationship because it can be dangerous and difficult for them to leave. If they threatened to leave or are separated from their abuser, this is the most dangerous time and when they are most apt to be killed. Why is this? According to the Strengthen Our Sisters website, Murder is the ultimate expression of the batter's need to control the woman's behavior. Knowing this, women need organizations like SARC to help them design a plan to leave safely. SARC's free services include a 24/7 helpline, a shelter, counseling and legal services. For more information visit www.sarc-maryland.org or call the 24/7 phone number 410-836-8430.
The UUFHC members coordinating this year's commemoration stated, The Silent Witness Initiative helps us understand the profound damage violence brings to our lives, and hopefully raises the awareness in our community about the tragedies that have occurred right here in Harford County. Our statues are a silent remembrance of those victims and we especially welcome family and friends of those victims.
The mission of the Silent Witness project is to promote peace, healing and responsibility in adult relationships in order to eliminate domestic murders in the United States by 2020. You can learn more about the Silent Witness National Initiative by visiting its website at www.silentwitness.net.
---
Green Sanctuary and Climate Justice
The Green Sanctuary Team will hold Green Sanctuary Information Sessions on Sunday, October 27 at 12:00 noon and on Thursday, November 14 at 7:00 pm. You can become part of the Green Sanctuary Team or just get more information about what UUFHC is doing to become a Green Sanctuary. Besides finding out how to make our Fellowship greener, you can get hints to use in your own home to impact environmental health and lead to healthier living.
The UUA and Congregations across the continent are working toward Climate Justice and will hold a 2020 Intergenerational Spring Seminar in New York City April 15-18, specifically for youth and adult leaders, such as our own Green Sanctuary team. The seminar equips participants with the information and skills to take action locally for global justice issues through worship, workshops, small group work and a visit to the UN Headquarters. Learn more and apply at www.uua.org/unspringseminar. A recent poll conducted by The Washington Post and the Kaiser Family Foundation found that nearly 8 and 10 Americans say that human activity is fueling change, most of these agree that change is needed, and nearly half believe action is urgently needed within the next decade if humanity is to avoid catastrophe. We at UUFHC can contribute to the efforts to make this world more livable for future generations. To learn more about the Green Sanctuary initiative, visit www.uua.org/environment/sanctuary/.
---
If you are interested in finding a community that offers fellowship, personal growth, and opportunities to give something back to society, please consider visiting UUFHC. Social Justice Committee announcements are posted on the wall over the food table in the coffee room. You can also find us on Facebook.
For more information on the Social Justice Committee or our projects, please contact Tammy Gappen (
socialjustice@uufhc.net
).
---