Social Activities at Our Fellowship
Artisan Circle
Facilitator: Darlene Rothwell
Meetings: TBA
Is your creative energy looking for a focus? Are you skilled in crafts and or the fine arts? The members of the Artisan Circle meet to combine their skills on periodic projects for the church. This year we will continue to create artwork for the sanctuary walls. If you are interested in being a part of the Artisan Circle please call Darlene.
Contact Darlene Rothwell (910-279-6844).
---
Chili Cook-Off 2020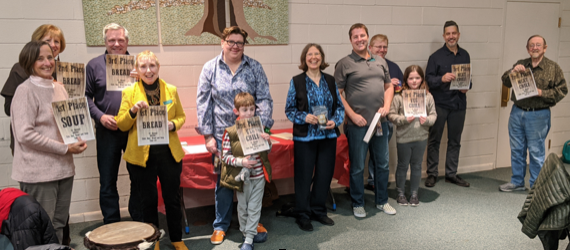 A good time was had by all at the 25th Annual UUFHC Chili, Beer, Bread and Soup Cook-off! We raised money for the Fellowship and got to enjoy great food, conversation, and music by the house band.
Thanks to everyone who volunteered to make this event a success, including folks who helped set up and break down, greeters, payment/sign-in volunteers, cash counters, drink table volunteers, supplies purchasers, music makers, and of course the cooks who brought delicious food to share.
And the winners are:
Category
1st Place
2nd Place
3rd Place
Chili
with Meat
Jim Stewart
(Everything Chili)
Glenn Brown
(7 No Trump)
Rene Varela
(Venison Chili)
Vegetarian
Chili
Nyla Mueller
(Vegetarian Mild Chili)
Sue Knause and Jackson
(Quino Bean Chili)
Elizabeth Dodson
(Vegan Corn Chili)
Soup
Maureen North
(Creamy Chicken & Mushroom)
–
–
Bread
Hazel Hopkins
(Pumpkin Cornbread)
Marlene Lieb
(Triple Crown Cornbread)
Bill Hofherr
(Fiest Harina de Maiz)
Contact Allison Ehrman (
socialactivities@uufhc.net)
.
---
House Band
Facilitator: Brenna Kupferman
Interested in being part of a band? Our house band periodically offers music for Sunday service and at some church social events. The ensemble varies upon availability, but can include keyboard, guitar, bass, and light percussion. All musicians and singers are welcome. Rehearsals are scheduled as needed by the ensemble.
Contact Brenna Kupferman (
Brenna Kupferman
| 443-739-5530).
---
Potluck Luncheon
Second Sunday each month, after service, starting in October
On the second Sunday of each month, October thru June, the Fellowship hosts a Potluck Luncheon. Members, guests and visitors are encouraged to attend and bring with them a homemade dish to share that will serve five or six people. The contribution can be anything from a warm casserole to a chilled salad; breads and desserts are also welcome. It is a cherished time to socialize, try new foods and dwell together in intergenerational community.
Frequently Asked Questions about Potluck
When does potluck occur?
Second Sunday of the month, after service, from October through April. September and June have special events planned, and in May we give families a chance to celebrate Mother's Day.
What should I bring?
Those who have young children may want to bring kid-friendly food such as pizza, hot dogs, or chicken nuggets; vegetarian dishes could be labeled to help those who are looking for that kind of food; soups, stews and casseroles are always well received as well as fruit, green salad and bread and cheese. Desserts are always appreciated, pre-sliced or in individual portions. We ask that you bring enough for 6-8 people. We supply coffee, cold drinks and paper supplies.
I'm not a cook, what can I bring to participate?
Snack chips or veggies with dips, platter of sliced deli meats and cheeses with bread, fresh seasonal fruit or fruit salad, tossed green salads, bakery desserts.
Where do I put my dish before church?
In the refrigerator, ovens (will be on 300 degrees) or in the coffee room if neither of those other places are appropriate.
How do we know when pot luck is ready?
The door between the sanctuary and coffee room will magically open and it will be announced.
How is pot luck like the airport?
Parents with small children will go first.
How can I make pot luck happen easily and quickly?
Bring a dish to share. Help with setting up the tables and chairs. Make sure your dish is ready to serve (cut/ portioned, heated or warming, accompanied by the correct serving utensil) after service.
What needs to be done after pot luck is over?
Wipe off dining tables, put away coffee supplies, empty coffee urns, clear and wipe drink cart and return to RE kitchen, wipe off serving tables and return to the walls, wash out large church dishes and put smaller items in the dishwasher, take trash to dumpster. Check the job jar.
What is the very last thing to remember?
Take your serving dish and leftovers home. They will be waiting for you in the coffee room.
Contact Sara Morton or Noreen Anderson (
hospitality@uufhc.net
).
---