Faith Formation
for Children and Youth
Faith Formation Mission Statement
Our Purpose is to guide our children and youth in the study of UU principles and heritage, moral values, social responsibility, and diverse religious ideas in a safe and resourceful environment, enabling them to develop their faith and understanding as Unitarian Universalists.
Faith Formation Program
Chalice Central
You don't need to add Sunday School Zoom classes to your already overloaded schedule. So let's lean into this weird new world we're living in and find a new way to explore faith formation virtually. Chalice Central is an on demand space for church community, resources, stories, prayers, lessons, and more. We'll still have Zoom events so we can see each other's beautiful faces, don't worry! We'll also offer periodic socially distanced in-person events through the year. In the meantime, you're invited to get comfy and scroll not-so-mindlessly through Chalice Central, a carefully curated stream of faith formation social media.
When you join Chalice Central, you'll have access to tons of intentional material. Content is organized into spaces and topics.
Spaces are interest/identity based groups in which you will discover content designed for that specific audience.
Topics are a way to sort the content in each space, making it easy to find resources on areas of interest.
Find Your Space(s)
Chalice Central offers the following community spaces which are open to everyone and designed to offer support for faith formation at home:
Spark (PreK - 2nd)
Ignite (3rd - 5th)
Burn (6th - 8th)
Glow (9th - 12th)
Homeschool
There are also private spaces for specific identities/interests:
BIPOC
Kindle (Parents/Family Adults)
Glow Youth Group (9th - 12th)
Coming of Age
Get Connected
Church community drives Chalice Central. Everything posted is an invitation to discuss and share your ideas. And you're not just an observer; you can add to the content whenever you want! Post that fabulous video you found, a poem which moves you, or an announcement about the new puppy you're adopting (make sure to add photos, thx). Faith formation at UUFHC has always been a cooperative and Chalice Central is no different; your involvement matters. And with an easily accessible website and phone app, you can connect with us wherever you are, whenever you want.
Keep It Safe
A major perk of Chalice Central is that none of our members' information is sent to Mark Zuckerberg or used to provide a steady stream of ads. This is a completely private platform to which only registered members have access. And that confidential information you give us when registering? It stays with our DFF and background-checked Faith Formation Team.
Adults Decide
It is up to each family to decide how they will interact with Chalice Central and who will be given individual accounts. At least one adult from each family will need an account to participate in the program. Children/youth are welcome to have their own accounts, especially youth in middle and high school so that they can access their content independently. Children/youth are also welcome to share their adult's account. Whatever works best for your family works for us.
Committed to Safety
Each member who joins Chalice Central is held accountable to our Covenant and Child/Youth Safety Policy by the community, Faith Formation Team, and the DFF. These are detailed in the registration form and are easily located on Chalice Central at all times. Great care has been taken to implement UUA approved best practices for online multigenerational community. All spaces will be moderated by staff or trained & background-checked volunteers.
Please be aware that it is impossible to guarantee child/youth safety online. Therefore parents and guardians must understand they are responsible for the health and well-being of their child/youth while their child/youth participates in any online space. This includes taking responsibility for their child/youth's appropriate behavior, appearance, and what is visible on the camera.
Are You Ready?
Now that you know what Chalice Central offers, all that's left to do is register! Please make sure to submit information for all children/youth in your family (even if you don't want them to have an independent account) so we can best support you as their primary religious educator.
The registration form linked above is for family access only. Coming of Age Mentors and Faith Formation Team members without children/youth in the home will be registered separately. Thank you.
---
The Holiday Connection Program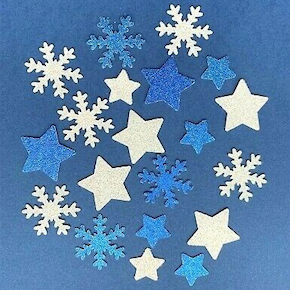 You're invited to join our Holiday Connection program! This is a weekly letter-writing, goodie-delivering, surprise-finding, and joy-filling adventure! The program pairs two households who will then make weekly deliveries back and forth over the span of seven weeks using UUFHC as a drop-off/pick-up point. With letter writing prompts, craft ideas, and more provided for each week, there is always something new to discover, send, and share which will be meaningful to everyone in every household. Registration for the Holiday Connection closes on Thursday 11/19 - register here.
---
Friday Friends-giving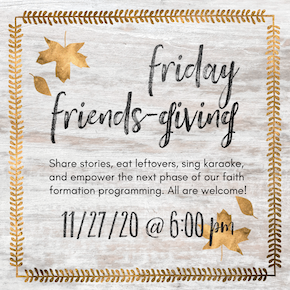 This will be an opportunity for folks to gather virtually with their Thanksgiving leftovers (or maybe some Chinese take-out?), share stories of UUFHC and what makes this community beloved to them, and empower the next phase of our faith formation programming... and there will be Zoom Karaoke! Everyone with an interested in faith formation is invited to join. There will also be games in a kid-friendly breakout room should kids have access to separate devices and want to join in the fun there. A Zoom link to the event and further details will be provided by a fellowship-wide e-blast soon! Email Jenn Blosser at dff@uufhc.net for more info.
---
Have questions or want more info? Contact our Director of Faith Formation, Jenn Blosser.
---